(This is a current extract from the Patterns of Power Repository.  An archived copy of this page is held at http://www.patternsofpower.org/edition02/432.htm)
The most powerful influences on a person's notion of good behaviour come from observation of other people – as noted by Adam Smith:
"We do not originally approve or condemn particular actions, because, upon examination, they appear to be agreeable or inconsistent with a certain general rule. The general rule, on the contrary, is formed, by finding from experience, that all actions of a certain kind, or circumstanced in a certain manner, are approved or disapproved of." [1]
In other words, people adjust their behaviour in order to please others in a community, or to avoid displeasing them.  The influence of other people is stronger if the relationship is closer[2] – as can be illustrated graphically: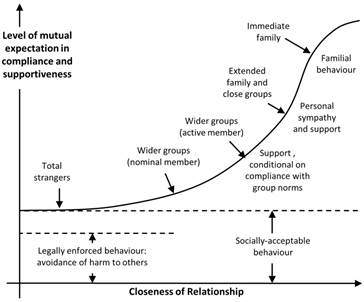 Supportive behaviour might not be expected with strangers, but hostility would not be expected either.  Strangers are entitled to expect socially-acceptable behaviour from each other but it would be unrealistic to suppose that they exert any other influence.  Some criteria for socially-acceptable behaviour are suggested later in this chapter (4.4.2).
Moral support, in this context, is characterised by words like 'security', 'affection', 'trust', 'cooperation'.[3]  Membership of a community is of value, because of the support that it brings, and communities are able to exert a correspondingly powerful moral influence over their members;[4] they confer the benefit of moral support in exchange for an obligation to reciprocate and to conform to expected behavioural norms.  The penalties for non-compliance take the form of moral sanctions, which can be very effective: stigmatising bad behaviour puts pressure on people who are transgressing, and ostracising them can have a profound impact.
The pressure to conform, and the type of moral support received, is significantly different between family members (4.3.2.1), communities (4.3.2.2), and wider society (4.3.2.3).
© PatternsofPower.org, 2014